The 14th version of the India Artwork Honest (IAF), which opens on February 9 in New Delhi, will witness the participation of 71 artwork galleries and 14 establishments. Amongst them, two galleries from Hyderabad will shine the highlight on up to date and trendy artists. Kalakriti will current a solo showcase of artist Avijit Dutta's new collection whereas Dhi Artspace will exhibit the works of rising artists Arjun Das, Leena Raj, Poorvesh Patel and Sumana Som. The themes explored vary from a dramatic interpretation of individuals's existence to the migrant workforce, and historical past to urbanisation. The IAF 2023 will look to facilitate interactions between Indian and worldwide artists via artwork talks and showcases.
All that drama
On the Kalakriti artwork gallery's sales space (E-13), artist Avijit Dutta will exhibit his collection of work titled Masquerade – An Countless Drama. He imagines life as a theatrical stage, inhabited by people who find themselves perceived via totally different societal lenses. He portrays concepts regarding desires, future, energy, love, lust, greed, anger and societal standing and says, "The world is our stage and we are witnessing the constant interplay of roles, characters and scripts that metamorphose and merge according to contexts and situations. While we observe, we too, are pulled into this vortex of masquerade and become a character in this drama." 
Utilizing tempera on canvas, his work in vibrant hues create an phantasm of sunshine and shade as if recreating a theatrical stage on which the lives of males, ladies and animals play out. "As artists, we are always in motion, observing, reflecting, learning and unlearning the complex facets of life. In that journey, some of us evolve as individuals and that is reflected in our art," he says, including that Masquerade is an extension of his earlier collection Intimate Theatres.
Avijit Dutta had displayed his earlier collection Deck of Playing cards at IAF 2018, in collaboration with Kalakriti. The gallery has been collaborating within the IAF since 2014, starting with group reveals and transferring on to solo reveals since 2016.
Individuals and displacement
Dhi Artspace marks its presence at IAF, on the E-6 sales space, via its showcase of work and installations by 4 rising up to date artists — Arjun Das, Leena Raj, Poorvesh Patel and Sumana Som. The visible tales put forth by these artists spotlight points about urbanisation, migration, labour and setting.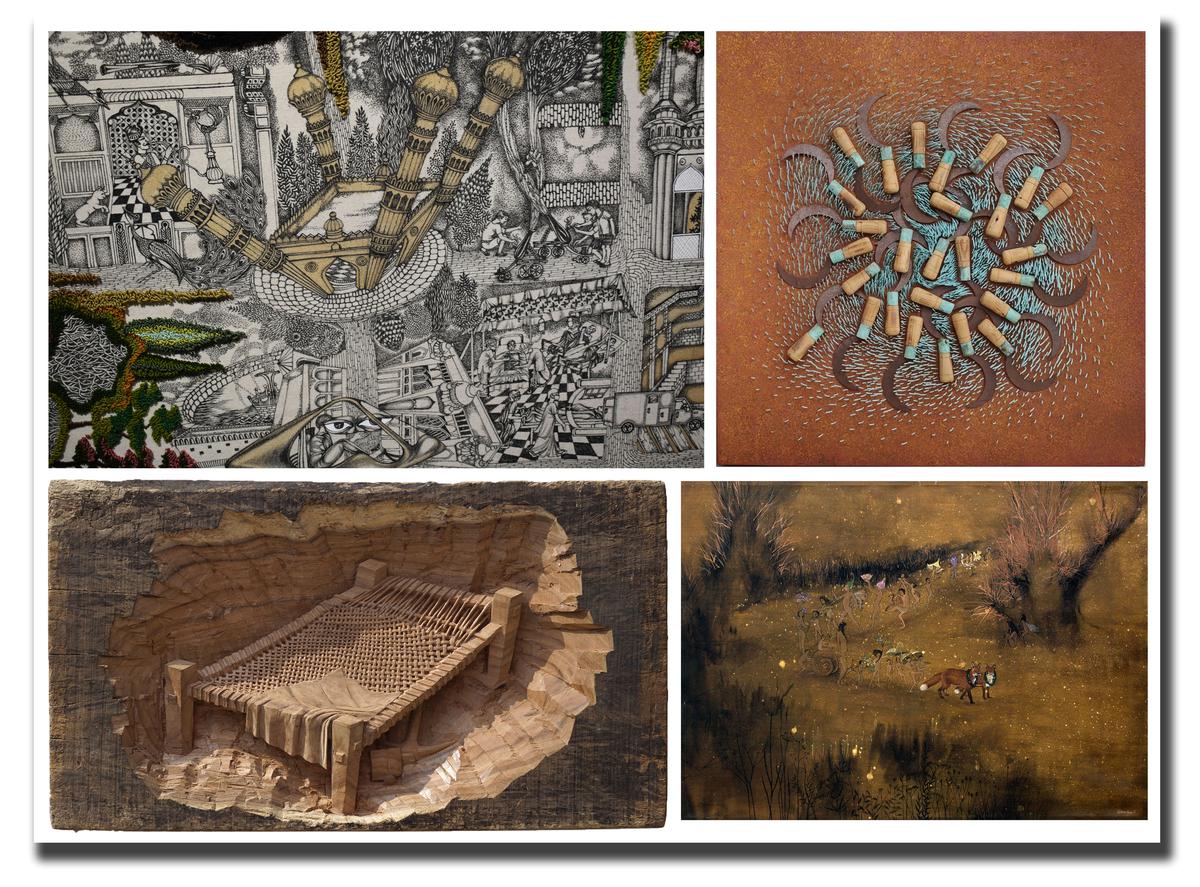 Arjun Das' work is impressed by the migrant workforce in Kolkata's Bara Bazar. Relatively than current portraits of the employees, he presents the merchandise created by them utilizing wooden, terracotta roof tiles, steel, stone and coal which might be bought within the bazaar to make viewers pause and consider the employees who've moved to Kolkata in the hunt for 'an imagined heaven' and subsequently, problems with displacement. 
Leena Raj attracts from her roots in Mavelikara in Kerala and depicts surreal landscapes in earthy tones of dusty browns, inhabited by males, ladies, youngsters, birds, animals and timber. The communion of beings is a working theme in her work that emerges from her observations of the approach to life in Mavelikara.
Artist Poorvesh Patel who hails from Navsari, Gujarat, presents hanging and dramatic pictures of instruments corresponding to sickles. He needs viewers to ponder on the results of urbanisation on agriculture; the depletion in soil high quality is additional compounded by the extreme use of pesticides and fertilizers. One among his work reveals sprouting seeds constituted of copper wires, to symbolically draw consideration to urbanisation and diminishing farmlands. Nonetheless, his work additionally underline Nature's high quality to replenish itself and rise like a phoenix. 
Historic landmarks such because the Charminar, a stepwell and the moti bazaar get a brand new interpretation within the work of Sumana Som who hails from Burdwan, West Bengal. She makes use of her expertise of map making and miniature work to layer her narratives and juxtaposes historic buildings and on a regular basis life in city areas to attract consideration to the connection individuals have with public areas.
As curator Oorja Garg explains, the artists' reference to land and their affinity to nature is the overarching, binding issue: "One of Poorvesh Patel's artworks shows seeds sprouting in the most uncanny environment; his art comes from his childhood memories of working in the farm. He also uses sickles in multiple compositions. Arjun Das, who has migrated from a village to Kolkata, gives an artistic interpretation of the things one would find at Bara Bazaar and how migrants co-exist in the market space."
Leena Raj's work displays her love for nature and the hours she spends portray in Kerala and Oorja factors out how a number of the human varieties in her work virtually seem gender-less (or androgynous). "And Sumana Som uses multiple media to focus on historical landmarks that exist today and convey a sense of time."
(The reveals will likely be on view from February 9 to 12 at India Artwork Honest 2023 in New Delhi)